Wednesday, 07 September 2016
Renault and Norden Develop Patient Transfer Bus
Approved Renault converter Norden Conversion has just delivered its first Renault Master patient transport Bus.
Based on the recently-introduced 12-seat Renault Master Bus, the stretcher-equipped version comes with five regular seats for able-bodied occupants plus the driver.
The conversion utilises part of the raised floor in the rear section of the vehicle to allow the stretcher to seamlessly slide into place, making it easy for the driver or aides to load or unload the full-size Ferno stretcher, which can accommodate a wide variety of patient types.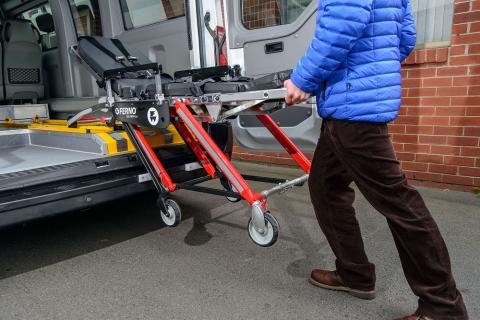 Conveniently located near the rear doors adjacent to the stretcher is a flat vertical surface against which a folding wheelchair can be secured, along with a stowage bin suitable for holding wheelchair-securing straps. The interior is also fitted out with a set of lockable drawers designed for medical devices and supplies. A speciality medical oxygen bottle in a quick-release Sure-Lok holder is also fitted.
This allows the O2 bottle to travel with the patient out of the van if required.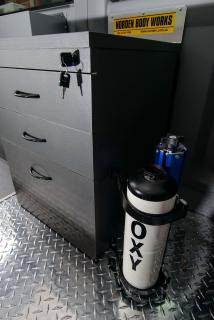 This Master Bus conversion has been requested by Goulbourn Valley Health and is the first of its type Norden has completed on a Renault Master Bus. It replaces a smaller vehicle that has been used for the same task for some time.
The stretcher bus comes with an electric side sliding door, as well as a fully trimmed interior, which uses automotive interior quality plastics that offer the benefit of being easy to wash-down. The metal floor insert around the stretcher is made of steel with extruded sections providing slip-free grip for staff or aides attending to the stretcher-born patient.
"Our customers are taking a liking to the Renault Master Bus design because it provides significant headroom inside, allowing their staff to move around without fear of hitting their heads," says Rob Anson, owner of Norden Conversion.
"With the stretcher conversion we are able to leave a number of seats in place, which saves time in the conversion process, and the standard electric slide out step and option of the electric sliding door provide features that our customers appreciate.
"The raised floor means we have a relatively simple modification to make to accommodate the stretcher base, and the step–in height through the rear, thanks to the front-wheel drive configuration, is pleasingly low. For staff entering and leaving the bus several times a day, this makes life a lot easier," he says.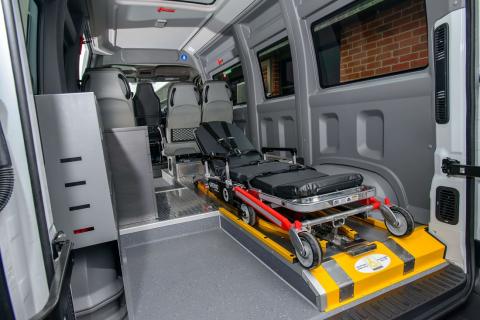 "With five seats available for staff or ambulant patients, the Bus provides the health authority with plenty of flexibility in operation," Rob says.
According to Lyndon Healey, Renault LCV's Model Line Manager, the new stretcher bus design is yet another example of the Master Bus concept's flexibility.
"We are starting to see a wave of interest in the 12-seater Master Bus, from a huge range of potential customers," he says.
"The Master Bus, as converted by Norden has already been deployed with capacity for 2 wheelchairs including a wheelchair lift to a local authority in Albury, and now this new stretcher-bearing Master Bus is set for duty with a Victorian health authority.
"We are looking at further Master Bus conversions, even looking to bring one in with a flat floor and no seats so that converters such as Norden can provide even greater levels of car-like accommodation for wheelchair passengers," he says.
"We have sold Master Buses to schools and tour operators as well as municipal authorities. As word gets around about how successful these applications are, we are confident the Master Bus will become the natural choice for bus operators who require good headroom, plenty of passenger space, as well as the flexibility of ease of conversion for specific tasks.
"And with our Master Bus now available with a 5-year/200,000 km factory warranty, as well as Capped Price Servicing for the first three scheduled (annual) visits to the dealership, Renault has improved the ownership experience for customers.
"With all Authorities and schools as well as private customers keen to drive down their whole-of-life operating costs, the Renault Master Bus provides a very sound solution to their passenger and patient transport needs," Lyndon says.
---