Testimonials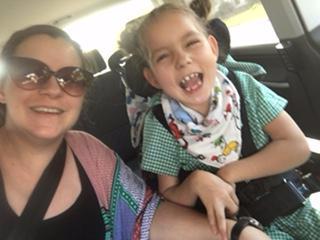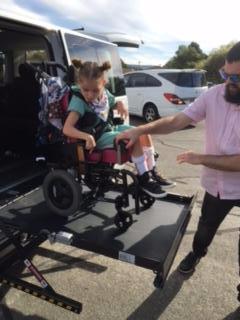 Norden Conversion Modified a VW Multivan for Zoe Neville with an under vehicle lift (UVL).
"We have absolutely loved our floor plan and UVL. We had an unexpected trip to Sydney 6 weeks ago, and it was so amazing having the seat next to Ruthie with Art diagonally behind her on the bench seat. I was able to dart in between Ruthie and Art as they needed me, even jump into the front seat to swap drivers, without even having to get out of the car! The floor plan has been amazing. We can even lie it her down and change her on the bench seat if needed."
"We haven't had any problems with UVL, the only thing I can think of is parallel parking at a kerb. But honestly, we are so used to it that we never park anywhere that means we'd be relying on that. Most disabled parks are wide enough for the UVL, and if not we park over the line a tiny bit. The lift itself is incredible- so quick to use and so sturdy. The restraints are easy to use and feel very safe."
"Overall, we highly recommend it!!"
---
Dear Norden,
"I just wanted to thank you so much for the wonderful service we received from your staff. The work was completed very quickly and your lovely staff went out of their way to make it easier for us by going out to Ashleigh's school to measure up her wheelchair. Ashleigh is using the lift to travel in the van to and from school and it is making life much quicker and easier for me. The automatic restraints in the van are so easy to use.
We truly appreciate the wonderful treatment we received from your staff, which these days you don't find too often."
Yours Sincerely,
Rose and Kevin Mill
---
Dear Norden,
"We are writing in regard to the wheelchair conversion your company recently carried out on the Volkswagen Carravelle van we use to transport our Daughter Louise. We would like to congratulate you on your quick response to our request, and the efficiency and speed with which the whole job was carried out. From the first contact, it took only a matter of three weeks for the conversion to be completed. We also appreciated you coming to collect the van and dropping it back to us.
We are also happy knowing we can come to you at anytime with any queries or difficulties, which will be responded to promptly, in a professional manner.
Thank you for doing such a great job."
Yours Sincerely,
Julie Trigg & Phil Schmidt
---
Dear Norden,
"Our family is writing to you to thank you very much for your caring and professional services which you gave our family, especially our children Samantha and Benjamin. Your professional expertise in attending to the required modifications to suit our children's needs was invaluable.
Thank you once again for your personal and professional service."
Kind regards,
Lyn, Pete, Samantha & Benjamin Hunt.
---
Dear Norden,
"Thank you for your generous support of the Starlight wish for Anthony Kinnear. Your donation has helped us brighten the life of a seriously ill child."
Kerry Weightman
Wish granting Coordinator
---
Dear Norden,
"On behalf of Ballarat Specialist School, may we thank you for your time and expertise you shared with us.
Your efforts are much appreciated and we learnt a lot from you. Safety and correct procedures are paramount and you certainly helped us in your endeavours.
Please accept my heartfelt thanks.
Yours Sincerely,
John Burt,
School Principal
---
Dear Norden,
" On behalf of the Starlight Foundation, I would like to thank you for your generous donation and assistance for Maryanne and the rest of the Morrison family during their visit to Melbourne.
The family thoroughly enjoyed having the independence to do some exploring of Melbourne on their own and helped make Maryanne's wish so successful.
Your continued generosity is greatly appreciated.
Your Sincerely,
Kerrie Anastasi
Wish Volunteer.
---
Dear Norden,
"On Behalf of Wheelchair Sports Victoria, I would like to thank you for your kind contribution of wheelchair accessible vehicles for the 2006 Telstra Wheelchair Rugby League Finals. It was fantastic to be able to transport the players in such comfortable and reliable transport. It was great you could make it to the finals and hope you enjoyed seeing Wheelchair Rugby in action.
Please extend our thanks to everyone at Norden Conversions."
Yours Sincerely,
Hilary Poole
Sports Development Officer.